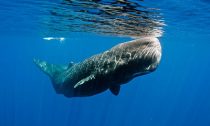 A baby sperm whale found washed-up on a beach in Wales had plastic sheeting and other marine rubbish in its stomach, experts have said. The 22-foot long male calf washed up near Abersoch, Gwynedd, on Tuesday and is the first sperm whale to wash up on the Welsh coast in over 100 years. A post-mortem examination found that the animal was malnourished and below a healthy weight.
Experts from the Cetacean Strandings Investigation Programme and the Zoological Society of London (ZSL) who conducted the post-mortem were perplexed as to how it had found its way to such shallow waters given the species generally lives in deeper southern waters which are hotter and where they feed on giant squid.
Rob Deaville, of the ZSL, said: "A large piece of blue plastic sheeting was found in the stomach and ...
Read More