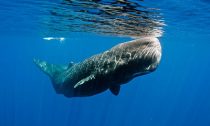 A baby sperm whale found washed-up on a beach in Wales had plastic sheeting and other marine rubbish in its stomach, experts have said. The 22-foot long male calf washed up near Abersoch, Gwynedd, on Tuesday and is the first sperm whale to wash up on the Welsh coast in over 100 years. A post-mortem examination found that the animal was malnourished and below a healthy weight.
Experts from the Cetacean Strandings Investigation Programme and the Zoological Society of London (ZSL) who conducted the post-mortem were perplexed as to how it had found its way to such shallow waters given the species generally lives in deeper southern waters which are hotter and where they feed on giant squid.
Rob Deaville, of the ZSL, said: "A large piece of blue plastic sheeting was found in the stomach and a relatively large mass of ropes … [this] may have had some impact on the animal's ability to digest any ingested prey.
"There was no evidence of recent feeding, although numerous squid beaks in the stomach indicated it was weaned and had been historically feeding."
Experts are carrying out assessments to decipher how the animal – which is the second smallest sperm whale ever recorded in the UK – was washed up.
A spokesperson from the British Divers Marine Life Rescue, said: "Whales, dolphins and porpoises are mammals like us humans, and therefore able to carry serious diseases that can be transmitted between us.
"We would advise members of the public to avoid all contact with the carcass and any bodily fluids to avoid any risk of infection from them.
"There is the possibility that this may have been an animal that was already ill."
It comes after a sperm whale spotted close to the Northumberland shoreline died after beaching itself earlier in the month – with the 30-tonne mammal attracting crowds when it was spotted in the shallows of the North Sea.
Director of the whale and dolphin charity Orca, Sally Hamilton, said: "It's tragic to see animals like this sperm whale dying on our doorstep. Until we can reduce our reliance on plastic and stem the flow of pollution into the oceans, we will see more marine wildlife affected by this increasing threat."