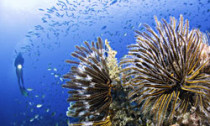 Indonesia is preparing a regulation in an effort to improve sustainable coral reef management given the upcoming World Coral Reef Conference (WCRC) in Manado, North Sulawesi, between May 14-17, 2014, a minister said.

"For the substance of the conference, Indonesia as the host country is preparing a regulation for sustainable global coral reef management," Marine and Fisheries Minister Sharif Cicip Sutardjo said here on Saturday.

The minister noted that the regulation is being prepared because of concern about the condition of the increasingly degraded world coral reefs.

According to him, coral reefs in Indonesia are the best in the world and, therefore, they should be protected with a regulation.

"The sustainability of coral reefs in Indonesia should be protected with an unequivocal regulation," the marine and fisheries minister said.

Meanwhile, the WCRC national committee chairman, Sudirman Saad, said the conference is expected to produce a sustainable coral reefs management communique, an action plan from coastal countries to save the coral reefs ecosystem and steps toward a sustainable coral reefs management convention.

Further, he pointed out that as part of the WCRC, there will be the International Blue Carbon Symposium (IBCS), the World Ocean Business Forum (WOBF), the Extra Ordinary Senior Official Meeting (SOM) and the Coral Triangle Initiative on Coral Reefs Fisheries and Food Security (CTI-CFF) Ministerial Meeting.

The IBCS aims to bridge the meeting of researchers and stakeholders regarding blue carbon in the scope of coral triangle regions, while the WOBF will promote business and investment opportunities in Indonesias marine and fisheries sector at an international forum and help in the exchange of information on environmental-friendly business management.

"The Extraordinary Senior Official Meeting and the CTI-CFF Ministerial Meeting are part of the Coral Triangle Initiative agenda," he noted.