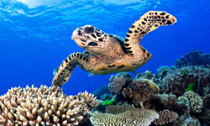 The Great Barrier Reef is in the worst state it's been in since records began and it will be 'pretty ugly' within 40 years, Australian scientists say. Experts claim the world's largest reef is facing threats from coastal development, such as a massive port-related dredging project at Abbot Point, the most northerly deepwater coal port of Australia, situated 25 kilometres north of Bowen, Queensland. Farm run-off and poor water quality are also endangering the reef, scientists say.
A Senate committee is investigating how the Australian and Queensland governments have managed the reef, ahead of a UNESCO decision next year about whether to list it as a World Heritage site in danger.
The Australian Coral Reef Society – the oldest organisation in the world that studies reefs – says coral cover has halved since the 1980s when the reef was listed as a World Heritage site.
By 2050, there will be fewer fish and large swathes of seaweed where complex coral structures once thrived, society president Professor Peter Mumby said.
'It will be really pretty ugly,' Professor Mumby told the committee.
'The reef is in the worse state it's ever been in since records began. There is so much scope to improve governance.'
Queensland government representatives told the committee progress was being made towards ticking off recommendations made by the World Heritage Committee, including establishing a long-term management plan for the ecosystem.
'[This] is intended to bring all of the pieces of reef management together into easily digestible forms,' Department of Environment deputy secretary Dr Kimberley Dripps said.
'This is so the community can see what is being done across all of the different programs, policies and investments.'
Programs had led to improvements in water quality, Dr Dripps said, citing the federal government's $40 million reef trust established to help improve the health of the reef.
Three million cubic metres of sand and soil will be dredged for the Abbot Point port expansion.
It will be dumped offshore, inside the Great Barrier Reef Marine Park Area but about 40km from the nearest reef.
Ports Australia chief executive David Anderson said offshore dumping was cheaper and better for the environment than onshore dumping.
He told the hearing the effects were misunderstood and overstated.
'The process, in many respects, is placed in information that is not totally correct,' he said.
Felicity Wishart from the Australian Marine Conservation Society led a small protest outside parliament before giving evidence at the hearing.
She wants state and federal governments to ban the dumping of dredge spoil offshore and dramatically curb its use.
'We're very unhappy at the moment,' she told AAP. 'We've seen approval of massive port expansions, we've sen dredging and dumping in the reef's waters.
'We don't think that is the best way to be treating a world heritage icon.'
The committee will also hold public hearings in Mackay and Townsville this week.