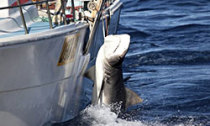 Western Australia's shark cull is to be halted after the state's environmental regulator advised against it. Earlier this year, baited traps known as drum lines were set up as a trial along seven beaches to catch sharks, after a series of fatal attacks. But the policy was controversial, with critics arguing it could damage the marine ecosystem.
The regulator cited "a high degree of scientific uncertainty" about the impact on the white shark population.
The Environmental Protection Agency (EPA) said it had weighed the potential impact of the plan against the need to maintain "the diversity, geographic distribution and viability" of marine life. It made particular reference to the white shark, because it is listed as a "vulnerable" species.
Experts consulted by the EPA said there was "too much uncertainty in the available information and evidence about the south-western white shark population, population trends and the bycatch from commercial fisheries".
"In view of these uncertainties, the EPA has adopted a cautious approach by recommending against the proposal," EPA Chairman Dr Paul Vogel said.
The state government had sought to continue the programme each summer for three more years. During the initial 13-week trial, from July to April 2014, more than 170 sharks were caught. None were great white sharks, however, to whom most of the recent fatal attacks had been attributed. State Premier Colin Barnett said he was disappointed at the decision but said an appeal was unlikely.
He said he believed beaches in Perth were safe but voiced concern about beaches in Western Australia's south-west.
Speaking to the Australian Broadcasting Corporation on Friday, he suggested fisheries officers could be given powers to issue kill orders for large sharks lingering in popular swimming areas.
"I think if you have, I'd use the term rogue shark, a shark that stays in one area for repeated periods, I think we need to catch that shark and remove it," he said.