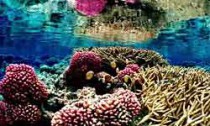 Senator Loren Legarda called for the establishment of a comprehensive map of coral resources nationwide to help leaders and lawmakers arrive at a policy for food security in the Philippines.
An updated comprehensive mapping of the country's coral reef resources should be done by the departments of agriculture; environment and natural resources; and science and technology, and the Marine Science Institute of the University of the Philippines, said Legarda, chair of the Senate Committee on Environment and Natural Resources. She did not mention the project cost.
"We need coordinated efforts towards the rehabilitation and protection of our reefs, as well as our mangrove forests, seagrass beds, and countless other ecosystems," Legarda said, adding the maps should indicate the state of health or destruction of the reefs, including proposed methods for their restoration and conservation.
"The destruction of our marine ecosystems will lead to the extinction of thousands of species and be detrimental to tourism, food supply, and sustenance and livelihood of our fisherfolk, Legarda warned.
Healthy coral reefs are estimated to give the Philippines net benefit of $46.3 million (Dh170 million) in shoreline protection; $22.9 million in coral reef fisheries; and $2.2 million in tourism, said studies showed by Legarda.
The Philippines is part of the Coral Triangle, considered the Amazon of the Sea, an area with more species of corals, fish, and pharmaceutical marine products than any other marine environment.
Some 100 scientists have declared the Philippines as the world's centre of marine biodiversity because of its tropical reefs.
But the World Atlas of Coral Reefs has reported that 97 per cent of reefs in the Philippines are threatened by destructive fishing practices, abuse of resources, and external destruction.
In April 2013, F.V Min Long, a Chinese vessel, destroyed 3.902 square metre of reefs on the south atoll of the Tubbataha Reef National Park, a 97,000 hectare body of reefs (in the Sulu Sea), which was declared by United Nations Organisation for Education, Science, and Culture (Unesco) as World Heritage Site in 1993.
In January 2013, USS Guardian, a US warship, destroyed 2,345 square metre of reefs on Tubbataha Reef'a south atoll.
In 2005, the Rainbow Warrior of Greenpeace, an environment activist group, destroyed 96 square metre of Tubbataha's reef.