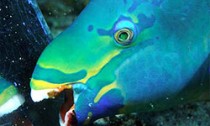 Jacksonville University researchers have embarked on a study of critical importance to scientists rearing and out-planting coral on the Florida Keys reef.
Mote Marine Laboratory, the Coral Restoration Foundation, The Nature Conservancy and the Florida Fish and Wildlife Conservation Commission have spent millions of dollars rearing and out-planting coral on the Keys reef for nearly a decade.
Jacksonville University marine science professor Dan McCarthy and two of his graduate students are examining whether coral reefs flourish when more parrotfish are around to eat the algae that battle for space on the reef with coral or whether certain species of parrotfish feeding on the live coral itself might also damage them, McCarthy said.
McCarthy will be working with Mote, which gave the professor a $10,000 grant through the Protect Our Reefs license plate program.
During the research, expected to wrap up at the end of summer 2016, McCarthy and his team will look at whether coral transplants survive best depending on how and where they are placed on the reefs, and on whether or not they are protected from predatory fish by mesh cages, McCarthy said.
"These findings have the potential to contribute toward finding solutions to help restore one of our great marine treasures," McCarthy said.
McCarthy has taken undergraduate and graduate student groups to the Florida Keys for more than a decade, teaching techniques in conducting surveys of fish and reef communities. He has a longstanding research relationship with staff at both the Mote Marine Laboratory at Summerland Key and the Keys Marine Lab in Layton.
"I'm very excited for us to be given this opportunity to contribute to our knowledge of how fish may affect coral reefs and how coral transplants may be used to restore degraded coral reefs," McCarthy said.