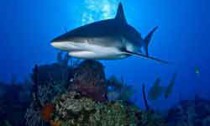 The World Wildlife Fund (WWF) recently raised over A$200,000 to buy shark fishing licences in Queensland's waters. They estimate the licences, for operating nets in and around the Great Barrier Reef Marine Park, could have been used to catch 10,000 sharks each year. Retiring these licences is a new development in Australian shark conservation, but may also limit locally caught seafood.
But do Australia's sharks need saving, or can we eat them? It depends on where you look.
Sustainable sharks
Sharks in general are much more vulnerable to overfishing than other fish. Compared to most fish, sharks have far fewer offspring over their lifetimes. As a result, shark populations cannot tolerate the same levels of fishing that fish can sustain.
Globally, there is great reason for concern over the status of sharks. About a quarter of all sharks and rays are threatened with extinction. The high value of shark fins in Asian markets drives a large and often unsustainable shark fishery that reaches across the globe.
Australia has an important role to play in combating this trend. Many species that are globally threatened can find refuge in the Great Barrier Reef Marine Park, which has an extensive system of protected areas and comparatively low fishing effort. Despite this potential safe haven, some species in Australia still rest on an ecological knife edge.
For example, the great and scalloped hammerheads (which the WWF says will benefit from the licence purchase) are both by-catch species in the Australian fishery and are listed by the International Union for Conservation of Nature as endangered.
Australian fishermen don't head out to catch hammerheads intentionally; most people do not consider the meat palatable. However, their hammer-shaped head is easily entangled in nets. Therefore hammerheads may be highly susceptible to any increase in fishing pressure.
Commercial fishers are legally required to have a licence. By buying the licences, WWF can limit the number of active nets in the water.
However, not all shark species are as vulnerable to fishing as the iconic hammerhead. Several shark species in Australia are well-managed. For instance, the spot tail shark is fast-growing and has many young, making it relatively resilient to fishing pressure. Many Australians regularly enjoy these species with a side of chips.
Species targeted by Queensland's shark fishery are likely sustainable. The latest fishery assessment published by the Queensland government in 2014 found that catches of most shark species were well within safe limits.
Supporting our local shark fisheries is therefore far better than importing shark from overseas where fisheries may be poorly managed.
But it is not all good news in Australia. Both the assessment and an independent review found that while Queensland's shark catch likely is sustainable, we need to be cautious about allowing any increases.
Importantly, Queensland's 2014 shark assessment relies on very limited data. A crucial fishery observer program was cut in 2012. The limited data mean that regulations for Queensland's shark catches are set conservatively low. Any increase in catch is risky without an assessment based on higher-quality data.
A win for fishers and fish
Buying up licences in an uncertain fishery may be an effective way to prevent the decline of vulnerable species. Although buying licences is a new move for marine conservation groups in Australia, elsewhere it has proven an effective strategy for conservation and fisheries.
For instance, in California the conservation group Nature Conservancy bought fishing licences for rockfish, some species of which are endangered.
The Nature Conservancy now leases those licences back to fishers that promote sustainable fishing methods. The fishers themselves can charge a higher price for sustainable local catches of fish. What started as a move purely for conservation has had benefits for those employed in fisheries.
The lesson here is that conservation organisations can be the most productive when they work with, not against, fisheries. The recent shark licence purchase in Australia could be a great opportunity for fishers and conservation organisations to work together to maintain healthy ecosystems and fisheries.
But if Australians are serious about protecting sharks, there are other steps we still need to take. Queensland should reinstate the fishery observer program so we have reliable data to assess shark populations. For instance, currently we don't know how many sharks are caught as by-catch in other fisheries.
Shark control programs designed to protect bathers are also a threat to endangered shark populations. However, data on deaths from shark control in Queensland were not accounted for in the government's catch limits.
Accounting for these missing deaths could make a serious dent in our sustainable catch, an independent review found.
There is an opportunity to address these issues in Queensland's upcoming fisheries management reform. Have your say here.
If conservation groups can work with fisheries, a more consistent and sustainable shark-fishing strategy may emerge. Australians can continue to be proud of our efforts to protect marine life, but can still enjoy shark for dinner.