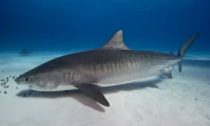 An American tourist was fatally mauled by a tiger shark while scuba diving on an island off the coast of Costa Rica, local authorities said Friday.
The woman, identified by her friends as 49 year-old Rohina Bhandari, a director at a New York City private equity firm, died after an early morning attack Thursday on Cocos Island National Park, more than 340 miles off the Costa Rican coast. Costa Rica's Ministry of Environment and Energy identified her in a news release only by her last name.
Bhandari was ascending to the surface at the Manuelita dive site when her 26-year-old diving guide noticed the shark, which he described as a female tiger shark. The guide, identified only by his last name Jiménez, tried to scare the shark off, but it was too late. The shark mauled Bhandari, leaving severe bites on both of her legs, the ministry said in the news release.
A boater at the surface helped repel the shark as it attacked Bhandari's diving instructor. The guide sustained a shark bite on one of his legs, but survived. A team of doctors on site treated Jiménez and confirmed the death of Bhandari, the ministry said.
Bhandari, a senior director at the Manhattan firm WL Ross & Co. LLC, was part of a group of 18 tourists visiting the island on a trip led by Undersea Hunter Group, a tourism company that organizes tours to Cocos Island National Park, according to Costa Rican newspaper La Nación.
Cocos Island National Park, designated a World Heritage Site by UNESCO in 1997, is the only island in the tropical eastern Pacific with a tropical rainforest. The remote island is world famous for its diving, during which tourists can spot rays, tuna, dolphins, and about 14 species of sharks, including the whale shark and hammerhead shark, the ministry said.
Tiger sharks were not in the area for about 30 years and returned about a decade ago, La Nación reported.