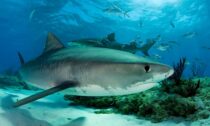 The new study, published on 13 January 2022 in the journal Global Change Biologyand conducted by scientists at the University of Miami Rosenstiel School of Marine and Atmospheric Science, revealed that rising ocean temperatures due to climate change have significantly changed the locations and timings of tiger shark migration patterns in the western North Atlantic Ocean.
Tiger sharks prefer tropical and warm to temperate seas and have historically not been found in the waters off the northeastern coastline of the USA. However, warming ocean temperatures now also make these previously unattractive habitats suitable for the cold-blooded predator.
Neil Hammerschlag, director of the UM Shark Research and Conservation Program and lead author of the study, explained: "Tiger shark annual...
Read More