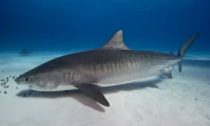 An American tourist was fatally mauled by a tiger shark while scuba diving on an island off the coast of Costa Rica, local authorities said Friday.
The woman, identified by her friends as 49 year-old Rohina Bhandari, a director at a New York City private equity firm, died after an early morning attack Thursday on Cocos Island National Park, more than 340 miles off the Costa Rican coast. Costa Rica's Ministry of Environment and Energy identified her in a news release only by her last name.
Bhandari was ascending to the surface at the Manuelita dive site when her 26-year-old diving guide noticed the shark, which he described as a female tiger shark. The guide, identified only by his last name Jiménez, tried to scare the shark off, but it was too late...
Read More