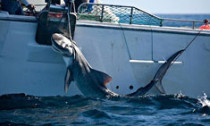 DRUM lines hooked three more sharks – two of them undersize – off Dunsborough today as the WA Government's catch-and-kill program continued. This morning, the fisherman contracted to monitor the baited hooks in the South-West pulled up a dead 2m tiger shark. Then he hauled up a 3m shark, shot it dead and towed it out to sea to dispose of the carcass. Finally, another 2m tiger shark was caught – this one still alive.
However, members of conservation group the Animal Rescue Team, who looked on from their vessel, said it took about 20 minutes for the animal to be released.
"It didn't look good. By the time it was released it looked like it sunk to the bottom," Animal Rescue Team spokeswoman Amy-Lea Wilkins said.
"We were a bit shocked actually. The WA Government said the hooks were designed so there would not be by-catch or undersize sharks being caught, but clearly that's not the case."
Today's catch comes as more than 400 people are expected to pack a Margaret River community forum tomorrow night to debate the catch-and-kill program.
Under the program, great whites, tiger and bull sharks over 3m will be destroyed but sharks under the size limit are to be released alive where possible.
But the majority of sharks caught off Perth and the South-West so far have been under 3m.
Ms Wilkins said there were "a lot of techniques being used around the world" to release hooked sharks quickly without the need to bring an animal on board.
"It's just another example of the Government giving the contract to someone without the right vessel, equipment or experience," she said.
However, a spokesman for Premier Colin Barnett has said the Government is confident the fisherman has the right equipment and skills to fulfill his contractual obligations.
Neither the Department of Premier and Cabinet nor the Fisheries Department will confirm how many sharks were caught today and how many were undersize.
It is not known how many sharks were caught on a second set of drum lines being checked by Fisheries officers off Perth beaches.
Ms Wilkins said her team of six volunteers, including a vet and marine biologist, were on the water in Dunsborough to support the drum line contractor to release sharks or by-catch.