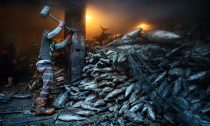 As global fish stocks that feed hundreds of millions of people dwindle, nations are scrambling to finalize by year's end an international agreement to ban government subsidies that fuel overfishing. Yet as negotiations at the World Trade Organization resume this week in Geneva, Switzerland, new research shows that governments have actually increased financial support for fishing practices that decimate marine life, despite public pledges to curtail such handouts.
In an exhaustive survey of 152 countries, scientists at the University of British Columbia found that ocean-faring nations spent $22 billion on harmful subsidies in 2018, or 63 percent of the total amount expended to support the global fishing industry.
That's a 6 percent rise since 2009. Harmful subsidies is a term that refers to those that promote overfishing and illegal fishing that would otherwise not be profitable, such as subsidies that underwrite fuel costs allowing industrial trawlers to sail to the farthest reaches of the planet. Fuel subsidies alone accounted for 22 percent of all fishing subsidies last year.
The findings underscore the high stakes in Geneva as only three months remain to meet a deadline to hammer out an agreement on fisheries subsidies.
Marine scientists and policy experts say a legally binding accord to ban destructive fishing subsidies is critical as climate change disrupts marine ecosystems. A landmark United Nations report issued in September found that the maximum catch from fisheries could decline by as much as 24.1 percent by the end of the century if greenhouse gas emissions continue unabated.
"After 20 years of discussions on fisheries subsidies within the WTO, the discussion on the technical aspects has been pretty much exhausted," says Rémi Parmentier, director of Madrid-based consultancy the Varda Group and a longtime observer of the negotiations. "The key ingredient that is missing is the political will to push the negotiation to the finish line."
WTO delegates will have the chance to hear firsthand the new study's findings when lead author Rashid Sumaila makes a presentation this week at the UN organization's public policy forum.
"The key reason subsidies are increasing is politics, as once you give people something like a fuel subsidy it's very difficult to take it away, " says Sumaila, a prominent expert on fisheries subsidies at the University of British Columbia. "The politics of this is very hard, but it's important for scientists to continue to show how this is not working for society."
The WTO's press office said the organization could not comment on the study or the status of the negotiations, but issued a statement from WTO Director-General Roberto Azevêdo.
"There is no question that many fish stocks are being depleted and that unfettered state funding for fishing can harm our oceans," said Azevêdo in the statement. "With the end-2019 deadline fast approaching, the negotiations are intensifying. WTO members will need to set aside their differences and find compromises to bring about a deal. The time to act is now."
A third of commercial fish stocks are being harvested at biologically unsustainable levels and 90 percent are fully exploited, according to the UN Food and Agriculture Organization. The population of Pacific bluefin tuna, for instance, has plunged 97 percent from historic levels due to rampant overfishing of one of the ocean's most ecologically and economically valuable top predators.
In recent decades, nations whose own fish stocks have collapsed have dispatched industrial trawlers to fish on the high seas and in other countries' territorial waters.
China's overseas fishing fleet of 3,000 vessels roams the ocean from Africa to the Antarctic to the Pacific. A study last year found nearly half the fish caught on the high seas in 2014 ended up in the holds of Chinese and Taiwanese vessels.
The University of British Columbia researchers report that China provides the most subsidies of any nation—some $7.2 billion in 2018, accounting for 21 percent of global support. Some subsidies are considered beneficial, such as those that pay for the sustainable management of fisheries. But over the past decade, money awarded by China for beneficial subsidies fell 73 percent while those considered harmful, such as paying for fuel or boat-building, more than doubled.
China late last year pledged to cap its overseas fleet at 3,000 vessels by 2020 and to reduce fuel subsidies. "The traditional development model of offshore fisheries needs to be changed," the country's Ministry of Agriculture said in an August 2017 statement.
While the study does indicate that subsidy increases may be leveling off, the European Union in June moved to restore subsidies to expand its fishing fleet. The EU already accounts for 11 percent of global subsidies and awarded $2 billion in harmful support in 2018, according to the researchers.
"What really bothers me is the example the EU is giving to other countries," says Sumaila.
The fact that 70 countries did not report subsidy data as required by the WTO highlights the challenge in determining the true magnitude of subsidies.
"It's like detective work," notes Sumaila, whose team dug up data from multiple sources to estimate the extent of financial support for industrial fishing.
Jarrett points out that the five countries that issue the most subsidies represent half of total global handouts.
"If those countries take on big commitments, then we'll really see a huge significant shift in moving away from harmful subsidies, and ultimately I hope, rebounding fish stocks and a healthier future for the ocean," she says.