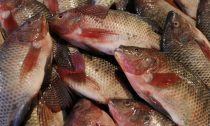 Drones guided by artificial intelligence to catch boats netting fish where they shouldn't were among the winners of a marine protection award on Friday and could soon be deployed to fight illegal fishing, organizers said. The award-winning project aims to help authorities hunt down illegal fishing boats using drones fitted with cameras that can monitor large swaths of water autonomously.
Illegal fishing and overfishing deplete fish stocks worldwide, causing billions of dollars in losses a year and threatening the livelihoods of rural coastal communities, according to the United Nations.
The National Geographic Society awarded the project, co-developed by Morocco-based company ATLAN Space, and two other innovations $150,000 each to implement their plans as it marked World Oceans Day on Fri...
Read More