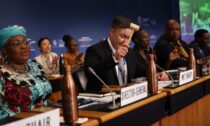 When the World Trade Organization's (WTO's) 12th Ministerial Conference closed at dawn on 17 June 2022, the 164-member intergovernmental body had finally adopted a fisheries subsidies agreement after 21 years of on-and-off discussions and negotiations.
The WTO's Agreement on Fisheries Subsidies is a historic step towards tackling one of the key drivers of overfishing on the world's ocean harmful subsidies nations pay to commercial fishing operators to help keep their businesses profitable.
One-third of fish stocks worldwide are exploited beyond sustainable levels, according to the United Nations Food and Agriculture Organization. The $22 billion a year in government subsidies are helping drive this overfishing; the funds go primarily to industrial fishing fleets to artifici...
Read More