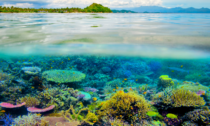 Coral reefs have been called the "canary in the coalmine" for the devastating impacts of climate change. While these colorful underwater ecosystems cover less than 0.2% of the sea floor, they are critically important: 25% of all marine life depend on them at some point in their life cycle, and nearly 1 billion people rely on them for everything — from food security to tourism and livelihoods, and to protection from storms. 
But they're dying fast. Coral reefs face the greatest extinction risk of any ecosystem on earth. More than half of them have been lost over the past 50 years. Even if leaders succeed in hitting the 1.5 degree Celsius climate targets, the world is projected to still lose up to 90% of its coral reefs, posing a major disruption of coastal communities.
The Global Fund for Coral Reefs hopes to save coral reefs and the communities that rely on them. Launched just over a year ago, it's the first and only global blended finance instrument dedicated to coral reefs, and it uses grants to incubate projects that de-risk private-sector investments. The fund was established by a coalition of United Nations agencies, government donors, private philanthropy, and financial institutions.
GFCR seeks to raise and invest $625 million over the next 10 years. With new funding commitments at COP 26, the team is developing a plan to support what it describes as "coral positive businesses."
So far, GFCR programming has launched in Fiji, Kenya, Tanzania, the Bahamas, and Papua New Guinea. Coral reef conservation experts are hopeful the fund will allow financing to catch up with technological advancements in coral reef conservation and restoration before it's too late.
Closing the coral reef funding gap
At the fund's initial planning meetings in 2018, stakeholders wondered why the global response to coral reef degradation was not commensurate with the threat.
"Only 1/100th of 1% of climate finance was going to coral reefs," said Chuck Cooper, the GFCR's executive board chair and managing director of Vulcan Inc., the company founded by Microsoft co-founder Paul G. Allen to support his business, and philanthropic and nonprofit work.
"Not only was there a coral reef crisis, but there was a huge coral reef funding gap," he said at an event for GFCR hosted by the Green Climate Fund at COP 26 Saturday.
The fund has been hard at work to close that funding gap.
Last week, Prime Minister Justin Trudeau announced that Canada will contribute 6 million Canadian dollars ($4.80 million), joining the United Kingdom, France, and Germany as government donors. That funding, together with contributions from the Paul G. Allen Family Foundation and Prince Albert II of Monaco Foundation, will incubate projects with the goal of de-risking and unlocking private sector investment.
And last month, the Green Climate Fund announced a $125 million anchor investment in the GFCR investment window, which will back a global portfolio of scalable projects in the fields of sustainable ocean production, ecotourism, and sustainable infrastructure.
In addition to fundraising, GFCR's executive board is considering and approving programs with the promise of increasing the resilience of coral reefs and the communities that depend on them. In March, it approved GFCR's first round of programming. It includes a $4.7 million proposal led by the U.N. Fiji country office that will incubate reef-positive business models, use nonsynthetic fertilizers in coral reef plantations, and introduce educational programs to reduce agricultural runoff, among other activities.
"We also want to move from a project by project to a programmatic approach," Cooper said.
It remains to be seen whether GFCR will succeed in protecting and restoring coral reef ecosystems on the brink of extinction. But experts working to address the coral reef crisis say it's an important step in the right direction.