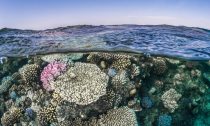 Ocean deoxygenation is now being recognized as major threat to future global coral reef survival.
Oxygen is life, in or out of the water, raising concerns that declining ocean oxygen stores are adding an additional environmental stress to already highly vulnerable coral reef ecosystems. While the twin effects of ocean warming and acidification are well studied, until now there has been limited understanding of how the growing threat of ocean deoxygenation may impact the ability of corals to function and ultimately form reefs.
A unique deoxygenation-reoxygenation stress experiment has given researchers from the University of Technology Sydney (UTS), University of Konstanz and University of Copenhagen insight into how corals manage deoxygenation stress and the key genes that likely dr...
Read More