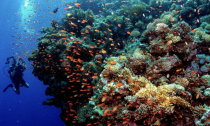 Feathery orange moss, bouquets of tightly bound lime green and mustard yellow buds, gently swaying blood red branches, and huge pebbles adding a shock of blue and purple – to the uninitiated, this dazzling display might resemble an underwater garden, albeit an improbably colourful one.
And in a way it is. Except when you get up close, really close, and you see the thousands of tiny creatures, often no bigger than half an inch wide, packed tightly together in colonies to create this ethereal Red Sea landscape. We are of course talking about coral polyps, the soft-bodied organisms that together can form reefs the size of islands.
They only cover a tiny area of the earth – less than one per cent – but they are the vital building blocks of a healthy marine ecosystem...
Read More