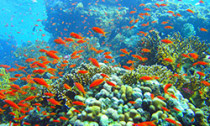 Reef corals in equatorial regions are going to start moving toward the poles as climate change takes hold, scientists have said. By analyzing the ranges of reefs from the fossil record, researchers are able to build a picture of how these systems respond to climate change—and then project how they might respond under future global warming.
Findings show that, under two climate change scenarios set out by the Intergovernmental Panel on Climate Change (IPCC), reefs are likely to expand their poleward range—in both the Northern and Southern hemispheres—and decline in the regions they currently occupy. This will mean a fundamental change to the locations of reef corals in the future.
The study, published in the journal Royal Society Open Science, examines the fossil record for ho...
Read More