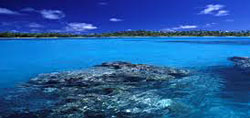 During the period of global warming at the close of the last ice age, Earth's sea level did not rise steadily but rather in sharp, punctuated bursts when the planet's glaciers melted, researchers report.
The researchers found fossil evidence in drowned reefs offshore Texas that showed sea level rose in several bursts ranging in length from a few decades to one century.
"What these fossil reefs show is that the last time Earth warmed like it is today, sea level did not rise steadily," says coauthor André Droxler, a marine geologist from Rice University. "Instead, sea level rose quite fast, paused, and then shot up again in another burst and so on.
"This has profound implications for the future study of sea-level rise," he says.
Because scientists did not previously have speci...
Read More