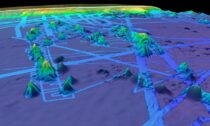 The quest to compile the definitive map of Earth's ocean floor has edged a little nearer to completion. Modern measurements of the depth and shape of the seabed now encompass 20.6% of the total area under water. It's only a small increase from last year (19%); but like everyone else, the Nippon Foundation-GEBCO Seabed 2030 Project has had cope with a pandemic. The extra 1.6% is an expanse of ocean bottom that equated to about half the size of the United States.
The progress update on Seabed 2030 is released on World Hydrography Day.
The achievement to date still leaves, of course, four-fifths of Earth's oceans without a contemporary depth sounding. But the GEBCO initiative is confident the data deficit can be closed this decade with a concerted global effort.
"It doesn't matter...
Read More