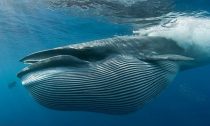 Conservation groups sued several Federal agencies today, after the Administration missed deadlines to list the Gulf of Mexico whale, a subspecies of the Bryde's whale, as an endangered species. The Gulf of Mexico whale is one of the most endangered species on the planet, with fewer than fifty whales left.
"The Trump administration's policies target the Gulf of Mexico whale for extinction," said Zak Smith, senior attorney with the Marine Mammal Protection Project at NRDC. "Every day these animals go unprotected from oil and gas development and other threats, we come that much closer to wiping them out. And when we lose them, we lose an important part of the Gulf's unique natural heritage."
Natural Resources Defense Council (NRDC), along with Healthy Gulf, formerly Gul...
Read More