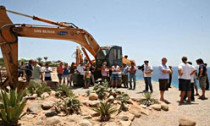 Residents of Hadaba in South Sinai's Sharm El-Sheikh stood in front of cranes, bulldozers, and backhoes on 30 April, blocking them from resuming what they claim is the destruction of reefs on the Red Sea coastline. The cliff – which runs from Sharm El-Sheikh's Aida and continues intermittently along the coastline until the Grand Azure Resort – is subject to collapse due to the discovery of cracks in nine sections of the cliff, activists say.
They allege that the governorate hired the Arab Contractors, an Egyptian construction and contracting company, to restore the cliff – but without public consultation or prior notification.
The community which gathered between 28-30 April to obstruct the construction say that the debris falling from heavy machinery will destroy the cliff's reefs, which will have an adverse environmental and touristic impact.
Residents have also appointed their own specialist consultant who says that resumption of construction on the cliff will only cause it to deteriorate faster.
Hesham Gabr – co-founder of Sinai Reef, a local South Sinai-based Egyptian environmental conservation NGO which has been monitoring and sounding the alarm on the crisis – told Ahram Online that the construction work will also destroy five prime diving locations.
"First, we are making people aware of the construction," he said. "The safety of the people is at risk, regardless of the construction work, which violates Egypt's environmental and Natural Reserves laws."
Though making its own consultations and studies, the NGO, which works to enhance community participation in environmental issues, found out that cracks in the cliff resulted from water seepage from a decaying sewage system and water pipelines, as well as false garden hose irrigation and leaking swimming pools.
An altercation between residents and the South Sinai governor on 30 April led to a temporary halt in construction.
The NGO alongside Hadaba's residents has lodged a report with the police and are awaiting imminent negotiations with the government's contractors, the governor and representatives from the environmental ministry.