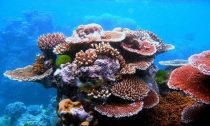 As announced by the United Nations data on climate change, 30 percent of carbon dioxide produced by humans is absorbed by oceans, which endangers the maritime live. However, some maritime creatures of the northern Red Sea stand defiant against the increasing temperatures of oceans and seas.
Unlike all kinds of coral reefs all over the world, coral reefs in the northern Red Sea stand defiant against ocean warming even if the sea water temperature increases by 6 °C in the summer, Professor of Marine Environment in the Faculty of Science at Al-Azhar University Eslam Osama told Egypt Today.
"No coral bleaching was recorded in the northern Red Sea over the past three decades and that indicatesthat coral reefs in this area are less sensitive to high temperature," said Osama, who conduc...
Read More