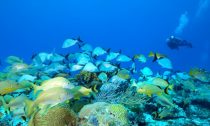 Interview with Chloe Harvey, Director of The Reef-World Foundation, about how the charity's implementation of the Green Fins initiative in Egypt—in partnership with the UN Environment Programme—is helping protect coral reefs in the Red Sea.
The Reef-World Foundation—the international coordinator of the UN Environment Programme's (UNEP) Green Fins initiative—has just announced the launch of Green Fins Egypt, the programme's eleventh country worldwide, in partnership with the Chamber of Diving and Watersports. We spoke with Chloe Harvey about the launch of Green Fins Egypt and what this means for the protection of coral reefs in the region.
There is strong and growing demand for Green Fins around the world—why was Egypt chosen as the initiative's latest destination?
Egypt is both a popular diving destination—with approximately 500 businesses providing diving and snorkelling activities in the Red Sea and an estimated 3 million divers and snorkellers visiting the region each year—and one with a spectacular marine environment. Its warm, clear waters, healthy coral reefs and abundant marine life draw tourists from around the world. Ensuring the Red Sea's exquisite marine life is protected and preserved for future generations is crucial to the sustainability of the region's tourism. As such, the implementation of Green Fins environmental standards is one element of Chamber of Diving and Watersports' ambitious action plan to strengthen sustainability within the marine tourism sector across the country.
How will Green Fins help protect coral reefs in the Red Sea region?
Diving-related damage to sensitive marine ecosystems, including coral reefs, makes them less likely to survive other local and wider stressors, such as overfishing or plastic debris as well the effects of climate change. Green Fins helps identify and mitigate tourism-related risks by providing environmental consultation and support, based on robust individual assessments, to dive and snorkel operators. Reducing diving and snorkelling-related damage to sensitive marine ecosystems, including coral reefs, helps to make them more resilient to other stressors such as those associated with climate change. So, through the implementation of the Green Fins initiative, the Egyptian marine tourism industry is playing its part in protecting coral reefs from the negative impacts associated with diving and snorkelling.
How is Green Fins being integrated into the Chamber of Diving and Watersports' activities?
While Green Fins is usually adopted by a government body, which integrates the programme's activities with their annual plans and absorbs associated costs. In Egypt it is the Chamber of Diving and Watersports who is taking the lead. The Chamber of Diving and Watersports is a non-profit organisation operating under the jurisdiction of the Ministry of Tourism. Egyptian operators pay an annual membership fee of US$340 to cover costs associated with audits. For those who would like to voluntarily participate in Green Fins, an additional fee will be charged to cover the associated costs of the programme. The Ministry of Environment will be Chamber of Diving and Watersports' main counterpart in the implementation of Green Fins Egypt and the launch was made possible thanks to financing support from the United Nations Development Programme and the Global Environment Facility.
What's different about Green Fins Egypt, compared to other destinations?
To ensure its members are fully compliant with the Green Fins Code of Conduct, the Chamber of Diving and Watersports will introduce a minimum environmental impact benchmark for Green Fins certification, which is a world first for Green Fins. This will mean a dive operator's score in the annual Green Fins assessment will need to at least meet a set benchmark in order for them to be certified. Dive operators whose environmental performance does not meet this minimum requirement will be given environmental training and tailored feedback to help them improve within a set timeframe. A follow up assessment will identify if these improvements have been successfully applied, in which case they will then be certified. If not, they will have another opportunity to join the programme the following year.
How much progress has been made so far?
The initiative has now been piloted in South Sinai Governorate where we ran a week of training and certified four Green Fins Assessors in the region. The Green Fins Assessor team is comprised of Chamber of Diving and Watersports representatives who are now certified to recruit, train and conduct assessments of new Green Fins members in the country. To date, four Egyptian dive and snorkel operators have already joined the global network of nearly 600 trained and assessed Green Fins members.
What's next for Green Fins Egypt?
Our assessors in South Sinai Governorate are now fully certified so they're ready to continue recruiting and assessing new members in the region—we've already had significant interest from operators who have signed the membership form and are in the process of organising their training and assessment. The second phase of national introduction will see 4–5 more assessors trained in the Red Sea Governorate in March 2020 and we're expecting a positive response to recommend that interested operators in the region get in touch with the Chamber of Diving and Watersports now to sign up in advance. We're hoping the Chamber team of Green Fins Assessors will be able to certify 30 dive centres in the coming year. We urge dive operators in both South Sinai Governorate and the Red Sea Governorate to get in touch if they are interested in proving they follow environmental best practice by achieving a Green Fins certification.
What are the business benefits for Egyptian dive and snorkel operators?
Green Fins assessments help dive and snorkel businesses identify which activities are posing the greatest negative impact on the reef and provides individual feedback and support to mitigate these threats through the implementation of best practice. For example, this might be helping identify practical, low-cost alternatives to common threats to the marine environment such as anchoring, provision of single-use plastics such as plastic bottles, and lack of awareness to existing rules and regulations. A healthy ocean means a healthy business—we want dive operators to protect their stunning natural resources to be enjoyed by tourists for many years to come. As well as helping to improve their sustainability, Green Fins is a way of proving the company is actively working to improve its environmental best practice. As such, it's a great marketing tool that can be used to attract the growing market of eco-minded tourists.
What initial results are you hoping for in the country?
During the first year of implementation, we hope to significantly reduce negative environmental impacts on coral reefs in the Egypt by reaching 30 marine tourism operators, training 150 dive guides and raising awareness of sustainability best practice among 30,000 tourists.
How can dive and snorkel operators in Egypt sign up?
Dive and snorkel operators interested in signing up to Green Fins can download the membership form from https://www.greenfins.net/how-to-join and return it to the Green Fins Team at Chamber of Diving and Watersports: egypt@greenfins.net.