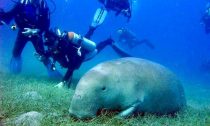 Egypt ranked the second best diving world destination in 2020, according to the British Dive Magazine. The magazine said Egypt once again garnered a large proportion of the vote. Egypt gained the same position in 2019.   
It is worth noting that Egypt has previously won a number of international awards and distinguished sites in the field of diving.
In 2008, 2009 and 2010 the shores of the Red Sea won the first place in polls in the English market in diving and marine activities. In 2015, Egypt ranked second.  
October 18, 2020, Reef International Foundation specialized in diving and protecting coral reefs has chosen the Red Sea in Egypt among the best global list of diving sites, and advised its followers to visit Egypt and enjoy a unique experience in the depths of the Red Sea.  
The foundation formed a list of the 9 best international diving sites in the world, where Egypt ranked fourth.  
The foundation said on its official website that the Red Sea had first attracted divers in the 1950s, and has since evolved into one of the most popular diving destinations in the world for its calm and clear waters, colorful coral reefs, exciting shipwrecks, and marine wealth.