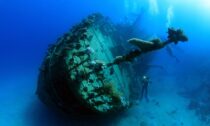 On the occasion of,  World Environment Day (June 5th, 2021), the Ministers of Tourism and Antiquities and Environment launched a marine conservation campaign in the Egyptian Red Sea; the first of its kind in the Middle East and North Africa (MENA) region as part of the ECO EGYPT campaign. 
This campaign is launched in partnership between the Ministry of Tourism and Antiquities (MoTA) and the Ministry of Environment (MoE), with UNDP Egypt, GEF, the Ministry of Civil Aviation (MoCA), the Egyptian Hotel Association (EHA), and Chamber of Diving and Watersports (CDWS) our goal is to raise awareness about marine conservation in the Red Sea and highlight the importance of ecosystem protection and restoration. 
This campaign sheds light on the the most common touristic practices that would harm the coastal environment and warns against them. Dr Khaled El-Enany said that Environmental protection initiatives contribute to achieving a balance between benefiting from eco-tourism sites while at the same time protecting them to maintain the sustainability of biodiversity and tourism. 
Dr Yasmine Fouad Minister of Environment said that this campaign aims to protect the marine environment and to preserve the biological diversity of the Red Sea for future generations.  She added that maintaining an ecological balance and alleviating the effects of human activities on the environment is of utmost importance.  She also highlighted the importance of promoting environmentally friendly practices in the tourism sector, by strengthening partnerships with the private sector and international bodies working in conservation and protection of natural resources and biological diversity, while making the best use of natural resources.