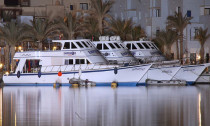 Marsa Alam is a great location for both learners and experienced divers, with a range of trips from shallow wrecks and bays to overnight Elphinstone. Learn to dive or take your diving further with our friendly, experienced team of guides.
Emperor Divers offers the most convenient service available in the Marsa Alam area. We operate dive centres in the Concorde Moreen Beach, Resta Reef and Resta Grand Hotels and our fleet of day boats are moored right on the jetty of the Marina Lodge hotel in Port Ghalib.
The table below shows the diving type, the location, the hotel and transfer times between each. Of course, you can stay at other hotels in the resort and we'll provide you with a free transfer at set times.
Click here for transfer details.