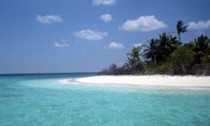 The recent international Ocean's conference in New York culminated with a strong global commitment to "conserve and sustainably use our oceans, seas and marine resources for sustainable development."
Oceans generate around half of all oxygen or "every second breathe" we take. How we move forward to protect, conserve and sustainably use this precious resource will affect all 7.5 billion people on earth. All our lives depend on it.
The geography of the Pacific region makes SDG 14 on "Life below Water" essential to all development in the Pacific. YES standalone Goal 14 is dedicated to conserving and sustainably using oceans, seas and marine resources, but it is critical in driving stronger policies and investments in oceans that can bring multiple benefits across many of the other SDGs: water (SDG6), gender (SDG5), energy (SDG7), jobs and growth (SDG 8) and climate change (SDG13).
There is a strong economic case for approaching oceans through the lens of a "blue economy".
Oceans contribute $100 billion USD a year to the global economy through fisheries and aquaculture.  $3 trillion a year if we add international shipping, oil and gas extraction and coastal tourism.
Oceans provide 260 million jobs, with women forming 47 percent of the workforce,
Oceans provide food for over 2.6 billion people, and it is critical to note that
Oceans have potential for renewable energy: wind, wave, tidal, thermal and biomass sources.
But (as highlighted in the Ocean conference) the ocean is being compromised. 40% of the world's oceans are considered 'heavily affected' by human activity due to a series of ocean management policy and market failures leading to over-exploitation, pollution (especially nutrients and plastics), invasive species, habitat loss and climate change-induced warming and ocean acidification. 90% of global fisheries are fished at capacity or overfished. 75% of coral reefs are threatened – we have lost one-fifth of all coral reefs and mangroves.
These impacts have a cost. It is estimated that the annual global cost of overfishing is $50 billion, the cost of nutrient pollution – $200-$500 billion, the cost of invasive species – $100 billion and the cost of ocean plastics – $13 billion
So what can we do about it? Let me highlight six areas for prioritized action:
1. Promote sustainable fisheries benefiting women and men
2. Support recovery and re-use of nutrient pollution from agriculture, waste water and industry.
3. Preserve coastal biodiversity and strengthen livelihoods through climate-resilient and community-based actions
4. Slow down and reverse ocean acidification (e.g. less fossil fuels, preservation of wild life)
5. Scale up proven policy and economic tools/mechanisms for plastic waste avoidance/recovery
6. Support countries to ratify and implement the Global Convention on Ship's Ballast Water and Sediments (to prevent the spread of harmful aquatic organisms from one region to another)
Additional solutions to consider include scaling up market mechanisms that incorporate the needs and rights of Small Scale Fishers; expanding marine protected areas and aquaculture; reducing or eliminating destructive fisheries incentives and subsidies; and strengthening national and regional fisheries management originations.
To link back to SDG13, climate change, it will be imperative to implement the Paris agreement to keep global temperatures below 2 degrees Celsius, and to pursue efforts to limit global temperatures to 1.5 degrees Celsius. Without strong climate action our oceans will be compromised and our future in peril.
This will take a broad-based partnership that harnesses a wealth of knowledge that must be tapped at all levels, including but not limited to: Pacific governments, civil society, the private sector, CROP agencies, the UN system, and other development partners and donors. We are all in this together.
Further, the Blue Ecoomy needs to be scientifically based, and founded on the premise that no economy can sustain itself when its natural resources are not being sustainably managed. Capacity and research are fundamental to transforming "business as usual", and to drive innovation and development. A diversity of skills, people and multi-disciplinary approaches are needed to implement sustainable blue economies – not only marine and earth systems scientists, but also social scientists, finance managers, policy analysts, information brokers, educators and generalists.
Pacific Island leadership has been crucial in promoting locally-driven solutions. Leadership by Palau, Kiribati and Cook Islands has resulted in the desgination of large expanses of the ocean as marine protected areas.
Realising a truly sustainable blue economy requires the courage to act on existing commitments, plans and strategies. New initiatives should build on existing institutional and governance structures.
We must note that SDG 14 is just one of 17 goals that countries in the region and around the world are striving to achieve in the coming years, and I congratulate the Pacific SDGs Taskforce on the draft Pacific Roadmap to guide and consolidate the regions efforts.
The 2030 Agenda for Sustainable Development, with its core vision of "leaving no one behind" is hugely ambitious, and I note the efforts that countries in the Pacific have made to move ahead on this work, aligning their national development plans to the goals, and committing the resources to track and report on their progress.
As an example, here in Samoa, the National SDGs Task Force has developed its roadmap for achieving the SDGS, and a corresponding Monitoring and Evaluation Framework. The tracking of 99 localized SDG indicators by the Samoa Bureau of Statistics and the Sector Coordinators is underway, and the Government is well placed to report on its progress.
The UN's support to sustainable development in the region is outlined in the UN Pacific Strategy 2018-2022 which will be implemented in close partnership with Pacific Governments, CSOs, and th private sector, as well as regional organizations, in particular PIFS and members of the Council of Regional Organizations in the Pacific.