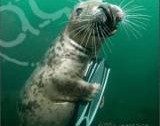 At Aquanauts we are not just a dive training centre, we also have an active social life based around our Dive Club. Filled with members from all walks of life and all age groups, we dive together and welcome new comers. With monthly club meetings and events, we also run non diving activities ranging from expert talks to haunted walks. Our club meets once a month for these activities. We also organise regular shore and boat dives as well as ganging up with our Conservation and Archaeology team to get involved with local causes.
If you still haven't had enough of us our club also ventures far away for exotic holidays to places such as the Red Sea, Gozo and North Cornwall. So not only can you join us in the water you can also top up your tans with us.
Taking a dive course or learning to dive in Plymouth has never been easier. Aquanauts offers traditional courses along with e-learning options so that less time can be spent in the classroom and more time diving in the sea. We offer PADI dive courses,Technical Diving Courses, and DIR diving with the GUE Fundamentals class.
Recreational PADI courses include, Open Water, Advanced Open Water, Rescue Diver,Divemaster, or OWSI / Instructor. We also offer the trimix courses Tec 40, Tec 45, and Tec 50.
Plymouth Diving Club
Keep in touch with us and read all about our dive club adventures through our facebook and twitter feeds. Please like or follow us using the links below. Aquanauts also runs an active Plymouth Dive Club with freqent diving and non diving activities arranged for club members, including beach BBQs, catch and cook days, fireworks boat trips, and club shore dives. Members also arrange holidays abroad together and charter boats to visit other dive locations around the country.