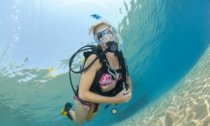 Welcome to Sydney's friendliest and most active Scuba Diving training centre. Frog Dive Scuba Diving Centre has been conducting scuba diving lessons, advanced diver training and technical diver training since 1978. Due to our very popular "learn to Scuba dive" courses, we are one very few dive groups in Australia with a purpose built Scuba diver training pool at our Scuba Diving Centre.
At Frog Dive you will enjoy:
Scuba Diving Lessonsto fit your busy schedule
The Frog Dive Team, Sydney's biggest and busiest Scuba dive club
Frog Dive Team FREE shore dives
The most active overseas dive calendar in Australia
Omega II, a 7m rigid hull inflatable dive boat operating out of Sydney for your Scuba diving Trip pleasure every weekend
Friendly advice
It is easy to learn to scuba dive in Sydney with Frog Dive.
Your Frog Dive learn to PADI dive course is conducted in just two and half days. All your scuba diving theory is completed online in your own time and pace at home or work.
Frog Dive is one of few scuba diver training facilities in Australia with a purpose built diver training pool. The pool is heated all year round for your comfort, and has a maximum depth of 3m. When you learn to dive with the  Frog Dive Team you can master your essential diving skills and prepare for ocean open water dives in the perfect environment.
Learn to Scuba Dive Course – Costs:
Learning to dive is an investment in a skill you will have for the rest of your life.