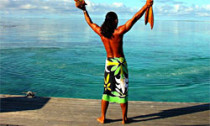 Dive Spirit Fakarava offers 3 dives per day, everyday in Tuamotu, Polynesia. We usually go to the North channel, but we also like going to the South channel when the weather conditions are adequate and the minimum number of divers is reached. There are many sites and variants (depending on the tides), within and around the North channel. 3 days of diving minimum is recommended to fully enjoy all the beauty that Fakarava offers. However, we recommend a one week stay in order to take full advantage of both channels.
Tens, even hundreds of sharks, manta rays, schools of priacanthus, perches, turtles, napoleon fishes… all of that with an exceptionally beautiful seabed.
Because of the distance to the channel, the package 2-tanks (morning) is the most appropriate. It consists of 2 dives with a break on the surface for 1 hour minimum. When possible, a break on the beach is really enjoyable.
In the afternoon, we propose only one dive (2 people minimum)
Our goal is that you will never forget all the memories and feelings you had during your stay. We are trying to offer a different concept from what it is offered right now. We propose different themes, depending on levels of experience.
With us, you will be able, for example, to learn distinguishing the different types of sharks. We are also interested in different types of smaller lives but yet, so colourful and varied that they are magnificent to watch, especially for macro photographers. Corals' procreation, diversity and protection are also part of the themes dives that we offer.