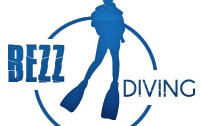 Situated in Mellieha Bay (close to the Danish Village), Bezz Diving is the newest dive centre in Malta. Being close to the best scuba diving sites in Malta, we offer PADI and SDI scuba diving courses, together with daily dive trips for the certified divers. Just a step away from the sister island of Gozo, where diving just gets better and better, we will show you the top sites and wrecks you want to see. We focus on making your experience a memorable and relaxing one by keeping our diving groups as small as possible, always keeping your safety and fun a top priority.
Scuba diving in Malta, Gozo and Comino is rated as the Top European destination by the readers of one of the leading diving magazines. You will be diving in clear warm waters offering a visibility of 40m at its best, a variety of great dive sites with easy access, a sea temperature as high as 27 oC in summer together with an interesting array of marine life.
After many years of diving in Malta, Mark Bezzina decided to open Bezz Diving Malta in 2012. Having travelled around the world for the last 9 years, he gathered a lot of knowledge which he now wants to pass on to his clients. Our aim at Bezz Diving is to give the best service for a fair price and we want to make your holiday in Malta a remarkable one. Mark, a PADI IDC Staff Instructor, has travelled, dived and worked in several countries namely Colombia with Aquantis Dive Center , Honduras, Galapagos Islands in Ecuador, Los Roques in Venezuela, Egypt and Australia. He can speak Maltese, English, Italian and Spanish fluently.
We have worked in the tourism industry for many years now and we know very well what Malta has to offer and what you'd like to see. Since we offer a very personalized service, we refer to our clients as friends. The possibility of receiving new friends at our dive centre, recommend them the best places and beaches to go to and leave Malta with great memories is just what we love doing.
Eco- Activities
We also aim at being a very eco-friendly dive centre in many ways: we care for our seas and the earth and we are doing our best to respect this as much as possible. Please note that we will never take anyone diving in the tuna-farms as our corporate mission is strongly against this destruction of our seas. Other actions we are taking include:
Using rechargeable batteries instead of disposable ones, Seperate our waste in a way it can be recycled, encourage email communication and keep printing to a minimal level so less paper is used, use energy-saver bulbs to use less energy, strongly promote the Peak Performance Bouyancy speciality to take better care of our reefs, and finally organize regular beach clean-ups to create more awareness.
"Finally you might now realise that Scuba diving is our passion thus making our job a very pleasant one. We hope to be able to pass on our diving knowledge to you and See you soon"