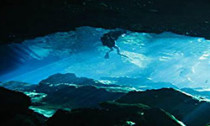 Would you like to learn to scuba dive along the reefs of Playa del Carmen? Train to become a certified Cave Diver or Technical Diver?
Then you have come to the right place! Beyond Diving is not just another dive center in Playa del Carmen. Beyond Diving can help you reach all of your scuba diving goals. Whether you want to learn to scuba dive, or you want to become a scuba diving professional, we are here to help. We offer training courses through PADI, NASE Worldwide, TDI, DSAT, RAID and IANTD. We're also proud to carry a large selection of scuba gear from some of the world's top manufacturers.
Beyond Diving Dive Center is personally attended by the owners who are passionate divers and dive instructors. All of our rental equipment is top of the line. Our BCD's, wetsuits, fins and masks are Aqualung and our regulators are Apeks. The way we see it, if we wouldn't use our own rental equipment, neither should our customers.We want you to have a completely safe and enjoyable experience while you are our guest. We dont want you to worry about the condition of the rental equipment. One look at our gear and you'll notice the difference.
We are right in the middle of some of the world's best scuba diving. Whether you are interested in diving some beautiful ocean reefs,diving or snorkeling the caverns and caves of our world famous Cenotes, the addrenaline of scuba diving with bull sharks(November to March), technical diving, increasing and perfecting your skills by taking a course (or many!)  or snorkelling with the world's biggest fish, the whale shark (May to September), you are in the right place.
Our specialty is diving in the cenotes . With crystal clear water, and visibility in excess of 100 meters (300+ feet), no current and amazing rock formations, your cavern dives in the cenotes will be hard to top. Let one of our certified and experienced Cenote Cavern Diving guides take you beneath the ground and explore the beauty of the cenotes.
Playa del Carmen Scuba Diving is awesome! Drift diving is king! Come check out our beautiful ocean reefs or the famous Mama Vina wreck and experience it for yourself.