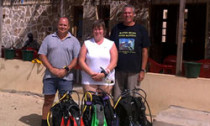 Come and dive the waters of Captain Kydd's infamous Skeleton Island. According to legend Maio is Captain Kydd's treasure island and his buried treasure is yet to be found, so who knows… Sunfish Scuba Diving Academy is Maio's first PADI/BSAC affiliated dive centre, and we offer a unique dive experience and a full range of PADI courses from Discover Scuba Diving to Divemaster. As Cape Verde does not experience the cold upwelling, from the Atlantic deeps our diving with us is much more tropical than you would expect and is more like the Red Sea without the crowds and Lion fish.
Our British, PADI trained, dive team is supplemented by local dive guides to give you a dive that make the most of local knowledge and PADI standards.
Being of volcanic origin the dives change from volcanic reefs with corals to while sand all teaming with life big and small, nurse and sand tiger sharks are not to be missed and for the lovers of the small, nudibrachs and crustaceans abound. For the lucky a meeting with manta rays would be the highlight of any dive.
Humpback whales migrate here from December to March and later in the year, turtles nest on the miles of Maio's white sand beaches. With approximately 120 shipwrecks not only will you enjoy a fantastic dive but also a holiday you will remember all your life.