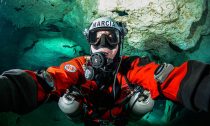 Welcome to my world! In my webpage you will find information on all the courses and guiding I offer as well as information on my latest cave photos and videos. I live in Playa del Carmen Mexico in the Yucatan Peninsula, home of the best cave diving in the world. I moved here to follow my passion for cave diving, photography and my decision to share that passion by making cave diving my profession. Wether you are a recreational or experienced diver I have courses and excursions that will fit you goals, experience level, and time. I am committed to providing the best overhead diving instruction and guiding available.
We are a team of a highly experienced Cave Divers, Instructors, Explorers, Photographers & Videographers intimately familiar with all of the dive sites on the Yucatan Peninsula, Mexico.
ADM teach Cave and Technical Diving training in Riviera Maya, Mexico.
​
Teach and promote safe Cave and Technical Diving practices, as well as cave awareness and conservation.
ADM Mexico is a diving facility is dedicated to teach the art of Cave diving.
ADVANCED DIVER MEXICO was created to increase the quality and diversity of aquatic education, ADM is prepared to redefine the nature of aquatic activity in three specific areas: education, research and exploration.