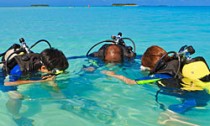 Take a seaplane to a fairytale lagoon. Walk on fine sand the colour of icing sugar and feel it tickle your soles. Learn to navigate a coral reef and relish your Maldivian adventure with dolphins and turtles.
Live in ocean villas suspended over jewelled waters or stay in land villas with sublime ocean views – the choice is yours at Angsana Velavaru resort. Feast on Asian and Mediterranean cuisines touched with a hint of Maldivian flavour and unwind at our spa with our classic offerings to knead your tension away.
Decide to take to the waters in a dive. Make your first dive count and explore an indescribably amazing reef. Discover and uncover and explore with an expert instructor to keep you safe. Move around the atolls and see underwater magic at work.
Experienced divers can take the open waters and flash through the ocean in free-spirited exploration. Swim through the boundless waters and find new dazzling and colourful sights beneath the waves.