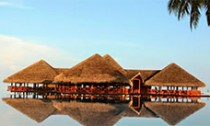 Medhufushi Island Resort is a haven of peace and relaxation. An air of tranquillity pervades the idyllic island which is adorned with shady coconut trees and tropical flowers. Surrounding the island is a spectacular lagoon in shades of turquoise and shimmering azure blue. If you want to get away from it all and experience affordable, laid-back luxury at a Maldives resort, you can't find anywhere better than Medhufushi Island Resort.
As one of just two resorts in beautiful Meemu Atoll, you are far from the noise and congestion of the modern world. But you'll find all the comforts of home available in our spacious and attractive villas, which come with a private sundeck and traditional Maldivian swing chair. There's no better spot to watch the gentle waves together than from the shade of your 'udoli'. Our exclusive lagoon suites offer the ultimate in seclusion at Medhufushi; the two spacious over-water suites are accessible only by boat.
The distinctive Maldivian atmosphere is evident throughout the resort, from the warm and welcoming staff to the coconut thatch roofs of each property and the sandy floors of the restaurants.
Venture even further into the realm of nirvana at the in-house spa. The spa is built upon stilts over the sparkling lagoon. The combination of the soft sound of the waves and the expert touch of the massage therapists is guaranteed to send you into a state of pure bliss.
The warm shallow water and pure white sand is a delight to experience but there are also all kinds of activities and experiences available for you and your loved one to enjoy. The secluded location ensures that the surrounding coral reefs and dive sites are virtually pristine, with intact and healthy corals and an abundance of aquatic life. Divers can discover a host of exciting and wondrous dive sites where manta rays, turtles, reef sharks and all manner of tropical reef fish can be found.  The Werner Lau Diving Centre's team is on hand to help you learn and discover.
The Werner Lau Diving Centre team is waiting to greet you at Medhufushi Island Resort. Scuba diving in Meemu Atoll is hard to beat. While there's no house reef there are a host of dive sites in the surrounding area to explore. The majority of the dive sites within the atoll are easy to dive because they are protected from very strong currents by the coral formations. Here you can discover stunning coral gardens, reef fish, small sharks and some beautiful macrolife.  There's also a channel dive in the vicinity available for exploration and on the outer reefs where the current is stronger you can discover reef sharks, mantas and even occasional whale sharks. 
You can book from a selection of morning dives, night dives, full-day excursions and half-day excursions and we also have camera hire and underwater scooter hire. If you would like to learn to dive or increase your skills, our attentive team will guide you through a range of courses, from Open Water to Dive Master certificates. 
Boahura Express
Shoals of blue-lined and humpbacked snapper, sweetlips and fusiliers are amongst the colourful collection of marine life at this dive site, which shelves steeply at a 45 degree angle before dropping down as a sheer wall after 30m. Turtles, sharks and tuna are also regularly spotted here.
Mantas and More
As the name suggests, this is a superb spot for sighting manta rays. There are various cleaning stations in the vicinity where mantas and their young can be observed between just 10 to 15m. The healthy reef slopes down gently to 30 metres and is a popular site for large fish including tuna, barracuda and napoleon wrasses.
Happy Corner
Eagle rays, sharks, fusiliers and jackfish can be found on the corner of the outside reef and can also be seen from just a few metres into the channel. Sometimes it's dived as a drift dive, taking in some interesting overhangs and vibrant hard and soft coral.
Simply the Best
This site is a small giri located close to a channel. White tip reef sharks, grey reef sharks and large fish including tuna, grouper as well as schooling mackerel and fusiliers are common sights at Simply the Best, which also features ridges covered with spectacular coral.
Medhufushi Thila
A lot of overhangs adorned with beautiful coral can be found throughout this site. Between 15 and 25m on the south side you can find beautiful hard and soft coral and sea fans. Big shoals of rock cod, sweet lips, fusiliers and blue-banded snappers provide a colourful and mesmerising spectacle. 
Sharks Tongue
Sharks Tongue is a challenging dive site which requires some skill but divers who successfully navigate it will be rewarded with the sight of turtles, large schools of oriental sweetlips, surgeon fish, fusiliers and copper snapper between 8 and 15m. The reef slope is the jewel in the crown of Sharks Tongue, with groups of black tip and white tip reef sharks between 15m and 30m. During incoming currents grey reef sharks and silver sharks often make an appearance.