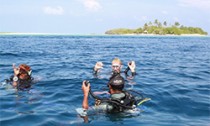 The Maldives welcomes you to a tropical paradise­ of palm trees, white sandy beaches,­ sparkling clear,warm water in­ turquoise lagoons and colourful coral reefs teeming with abundant marine life.
Veligandu Island Resort, surrounded by a beautiful lagoon, an excellent house reef and long stretches of white, sandy beach, is the only Resort on the island of Veligandu, North Ari Atoll. It is 600 meters long by 150 meters wide, about 22 acres. Your seaplane transfer from Ibrahim Nasir International Airport is a scenic, 20 minute flight.
Allow yourself to glide through the deep blue waters of the Indian Ocean discovering the beauty of the aquatic world! We offer an interesting variety of courses from novice to expert. We are confident that at least one of these will fulfill your dreams! The Ocean Dive Team welcomes all guests who not only want to enjoy the luxury of the beautiful dive sites around North Ari Atoll, but are also looking for something special.
Talk to divers who have been to Rasdhoo before and you'll soon find out that this atoll is quite a sensational diving location. Although it's a relatively small atoll, there are still some 18 dive sites on offer, ranging from easy going reef dives that are suitable for beginners to more challenging dive sites to tempt experienced divers. Since there are only 2 Resorts in this atoll, our divers are largely spoiled with uncrowded diving conditions.