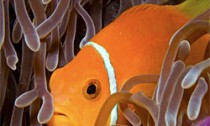 The Maldives welcomes you to a tropical paradise­ of palm trees, white sandy beaches,­ sparkling clear, warm water in­ turquoise lagoons and colourful coral reefs teeming with abundant marine life.
Meeru Island Resort & Spa is surrounded by a beautiful lagoon and long stretches of white, sandy beach. It is the only Resort on the island of Meerufenfushi, North Male' Atoll. Meeru is 1200 meters long by 350 meters wide, about­ 60 hectares (105 acres).­
Meeru offers much to do, or you can relax and do nothing at all. Go on a cruise, a dive or just totally relax on the beach in the sun. It's all here for you to enjoy, including warm, friendly Maldivian hospitality.­ Download the Island Fact Sheet (131kb pdf).
Allow yourself to glide through the deep blue waters of the Indian Ocean discovering the beauty of the aquatic world! We offer an interesting variety of courses from novice to expert. We are confident that at least one of these will fulfill your dreams! The Euro-Divers Dive Team welcomes all guests who not only want to enjoy the luxury of the beautiful dive sites around North Male' Atoll, but are also looking for something special.
Meeru is surrounded by a big, beautiful lagoon. There is no near by house reef, so all dives are boat dives. The lagoon is home to a great variety of marine life with interesting coral formations and colourful fish life in shallow water. It is perfect for snorkelers and for diver training. The average water temperature is 28 degrees Celsius. and the visibility from January to May is about 20m to 50m and from June to December is 15m to 25m.