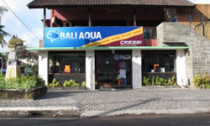 Bali Aqua is a 5-Star scuba dive operator and scuba training facility, and an PADI and SSI Divecenter offering expert knowledge, years of experience, great service, and the flexibility you need to get the best from your holiday time.
Of course diving must be fun! So whether on day-trips or safaris, we make sure you will enjoy all of your time with us – and still stick to high international standards of safety and service. At the same time, we keep our prices good and give our best to you – and we never cut corners, we simply believe in giving you great value. Hundreds of satisfied customers will agree with this, please have a look at our report on Trip Advisor!
Snorkeling
–  Trips and courses at Bali's best snorkel sites
Equipment
–  Scuba & Snorkeling equipment sales
Freebies for repeat-guests
–  discounts and free diving if you come back, and bring friends
Komodo diving
–  short diving safaris to Komodo, land-based using a speedboat
Bali Aqua Diving plus points…
Bali Aqua has a large, modern facility in the heart of Sanur
We have good prices, but high standards
We only do small groups (max. 4 guests) but if you come with a big group we will make sure that your group will get private arrangement
Our guests are insured
By using European standards of management, staff training, equipment maintenance and dive-practices, we provide a quality of service that leaves no-one disappointed
Only experienced and mature dive professionals are used to guide and teach you
We believe that 100% professionalism is an attitude, not a set of rules; experience allows us the flexibility which is the key to sending customers away completely satisfied.
Also – for us, Safety is a must – we follow these ABCD's
a. We give extensive dive-briefings
b. We plan the dives according to your experience and conditions
c. We use 100% professional guides and don't push the limits
d. We don't take you over 300m altitude after diving