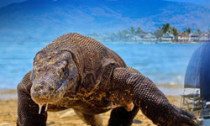 Diving in Komodo Island with Komodo Aqua Diving !!
Diving Komodo in Indonesia with Komodo Professional PADI/SSI Divers should be get in the list
things to do in Indonesia
, because Komodo Island stands one among the best dive sites in the world. The abundance of Pelagics, Manta Ray, Sharkcritters and macro fishes, Pigmy Seahorse, Frog Fish the dazzling colours and diversity will make diving Komodo truly unforgettable experience while you are in Indonesia.
Let us take you to Komodo Snorkeling Tour, Komodo Daily Dive Trips or even for multiple days Komodo Dive Packages. Komodo Aqua Diving will make sure of your safety for Diving Komodo, whether you are beginners diving, certified divers or you are looking to earn your Diving Certification.
We will provide you transportation with experienced driver, good boat with experience boat captain and let us know if you need our help to arrange a good accommodation in Komodo Island. So, just relax and enjoy your journey for Diving Komodo.
And don't forget to visit the only one chance in the world to walk with the legendary Komodo dragons. These truly awesome beasts can reach 3 metres plus and can reportedly run at 20km an hour chasing their prey. Combination from Diving Komodo with Komodo Tour will be truly the trip of a lifetime.