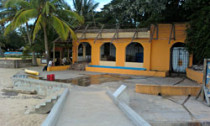 MOZDIVE is a Receptive Tour Operator specializing in travel arrangements and diving packages in the Indian Ocean and Mozambique. We have extensive experience operating innovative, high-quality programs and offering a diverse and comprehensive palette of products for groups and individual travelers.
Africa is a cultural melting pot, whose people and cultures are as diverse as its
geography. It is old and constantly developing. Familiar, yet unique. Our focus is to showcase the diversity of this vast continent for our clients and their passengers, delivering the African travel experience with an exceptional level of organization and customer satisfaction.
Carlos Nelli Borges
General Manager and Diving Instructor
Geisa Remane
Director
Diving Packages and Mozambican Receptive
Assistant Instructor
Vivian Prado
Reservations for Packages and Receptive