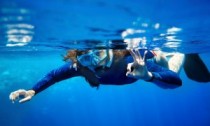 Scuba 6 Eco Diving plans to become the most respected and sought-after dive shop in Panama offering not only great dives and certifications but also evolving its shop to find new and innovative ways to enhance your experience.
Our aim is to successfully cater to the discerning diver looking for high quality service with justifiable prices and help you make the most of your vacation time spent with us. Unique and great dive experiences as well as students trained to the highest possible standards is our key to developing personalized connections that inspire customers to come back for more.
Our vision is to offer extended bottom time, share our love and knowledge of the marine environment and help you get more from your time spent underwater. What we value the most are our clients; it is thanks to you that we are awarded the Tripadvisor Certificate of Excellence year after year.
Discover our beautiful reefs without the crowds.
Specialising in small groups allows us to do things differently. For us, a great dive experience is not a race against the clock. Our slow cruising speed and long bottom time give you the chance to explore the reefs to your heart's content. You dive your dive while we keep the first ones out well entertained.
Prices include: necessary dive equipment, guide, fresh fruit and water on board.
Dive Sites
There are sites for everyone from beginner to pro; from shallow to deep and from easy to more challenging. We offer half-day 2 tank tours to full-day 3 tank adventures as well as private charters. Sites are chosen daily depending on conditions. Prices vary depending on the site. $70-$135
Local custom: many of the dive sites here are known under as many as 3 different names depending on whom you speak with.
Night dives
Night diving is one of the most popular dive activities. 1 immersion $50
Stay tuned into our Facebook and website for the latest and greatest from the Scuba 6 Eco Diving Team! Or find us at Main Street, Old Bank, Isla Bastimentos, Panama
+(507) 6722-5245
info@scuba6ecodiving.com